Teriyaki Deer Jerky Recipe
This teriyaki deer jerky recipe is one of my all time favorites. It has a rich flavor combo of teriyaki, soy, brown sugar, black pepper, and smoke that all your hunting buddies and family will enjoy. The additional flavor of roasted sesame seed makes this recipe sooo goooood... This is one you guys just have to try!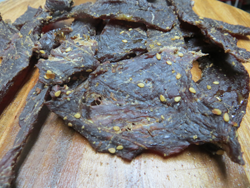 Ingredients:
4 - lbs lean deer meat
1 - cup Soy Vay veri veri teriyaki sauce
1/3 - cup soy sauce
1/2 - cup water
1/2 - cup brown sugar
1 - Tbs garlic powder
1 - Tbs onion powder
1 - Tbs black pepper
1 - Tbs liquid smoke
Preparation:
Cut your deer meat into 1/4" strips and remove any excess fat.
Mix all of the ingredients (except for the brown sugar) into a medium size pot and heat the mixture until it begins to simmer. Now pour the brown sugar into your pot and mix it thoroughly until all of the sugar has dissolved.
Split your meat evenly into two one gallon size bags and add even amounts of the the marinade to each bag. Marinate the meat for 12 hours.
Pat down each piece of meat with a paper towel to remove any excess marinade and then lay your meat evenly on your oven or dehydrator rack.
Dehydrate your deer meat at 160 degrees for around 5-7 hours or until done. Enjoy your teriyaki deer jerky!
More Recipes
How to Make Beef Jerky > Deer Jerky Recipes > Teriyaki Deer Jerky Recipe