Sweet Teriyaki Beef Jerky Recipe
Here's a sweet teriyaki beef jerky recipe that is great for those of you who are more into sugar than spice. It offers a delicious teriyaki flavor with just the right amount of salty and sweet.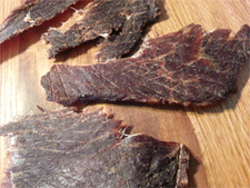 Ingredients:
4lbs - beef of your choice
1 1/2 - cups teriyaki sauce
3/4 - cup brown sugar
1 1/2 - Tbs hickory flavor liquid smoke
1 - Tbs onion powder
1 - Tbs garlic powder
1 - Tbs pepper (optional)
Preparation:
Use 4 lbs of your favorite cut of beef and prepare it by cutting it into 1/8" thick slices. Remove any fat possible from each piece.
Mix your teriyaki sauce and liquid smoke together in a medium size pot. Heat the mixture on your stove until it gets hot to the touch, then add your brown sugar and stir it for about 5 minutes. This helps dissolve the sugar completely. Allow the mixture to cool to room temperature.
Fill two gallon size ziploc bags with even amounts of meat and add half of the marinade to each bag. Marinade your meat for 24 hours.
Dehydrate with your favorite method and enjoy!
More Recipes
Home > Beef Jerky Recipes > Sweet Teriyaki Beef Jerky Recipe