BBQ Beef Jerky Recipe
An all time favorite, this bbq beef jerky recipe is made with balsamic vinegar, ground mustard, brown sugar, lemon juice, black pepper, smoked paprika and a few more tasty seasonings. This sweet, tangy, spicy recipe is one that your friends and family will grow to love and crave.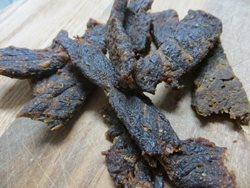 Ingredients:
3 - lbs beef top round steak
1 - cup ketchup
1/2 - cup water
1 - Tbs Worcestershire sauce
1/4 - cup balsamic vinegar
2 - Tbs brown sugar
2 - Tbs sugar
1 - tsp ground mustard
1 - tsp black pepper
1 - tsp onion powder
1 - tsp garlic powder
1 - tsp smoked paprika
1/2 - Tbs lemon juice
Preparation:
Cut your top round beef across the grain into 1/4" strips.
Mix all of the bbq marinade ingredients into a medium size sauce pan and heat until it simmers. Simmer the mixture for 10 minutes and stir it well. Turn off the heat and let it cool to room temperature.
Put your jerky meat into a large container or gallon size ziploc bag and add all the marinade to it. Move the meat around to ensure that every inch has been coated. Marinate the meat for 24 hrs.
Remove the strips of meat from your marinade and pat each one down with a paper towel to remove excess marinade.
Dehydrate your jerky meat with your oven, smoker, or dehydrator for 5-7 hours or until done. Enjoy your BBQ beef jerky !
More Recipes
How to Make Beef Jerky > Beef Jerky Recipes > BBQ Beef Jerky