Best Beef Jerky Recipe
The best beef jerky recipe is always based on personal preference but here's why this one is so special... It has that rich beef flavor that every jerky lover wants but also gives off the perfect amount of sweet, salty, and spicy flavors!
It's the best go-to recipe for when you're craving an all around, rich in flavor, beef jerky. Give this one a whirl. It's guaranteed to satisfy !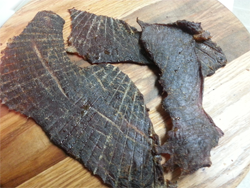 Ingredients:
3 - Lbs london broil or round top steak
3/4 - cup worcestershire
3/4 - cup soy sauce
1 - Tbs brown sugar
1 - Tbs honey
1 - teaspoon molasses
1 - teaspoon onion powder
1 - Tbs hickory liquid smoke
1 - Tbs black pepper
1- Tbs Crushed red pepper
Preparation:
Get yourself 3 pounds of lean top round steak and ask your local butcher to cut it against the grain into 1/4" thick pieces.
Mix all of the ingredients into a medium size pot and heat the mixture until it is hot to the touch, then turn off heat, and stir it well . This helps mix the sugars.
Divide your beef in two seperate gallon sized ziploc bags and add half of your best beef jerky recipe to each bag. Marinade the meat over night for 24 hrs.
Remove the meat from the marinade and set it on a clean dry towel. Pat it all down to remove any excess marinade.
Dehydrate your jerky meat for 5-7 hours and enjoy!
More Recipes
How to Make Beef Jerky > Beef Jerky Recipes > Best Beef Jerky Recipe