Stroganoff Deer Jerky Marinade
This deer jerky marinade came to me one evening when I was sitting around craving a good beef stroganoff. The lightbulb turned on and off I went to the store to grab some supplies. After a couple evenings of trial and error, I took my first bite and realized I nailed it! Just like that deer last year....Ladies and gentleman , let me introduce to you , the "Stroganoff Deer Jerky Marinade Recipe".
This venison recipe is packed full of beef broth, worcestershire, black pepper, garlic, cumin, and a healthy helping of powdered stroganoff mix. This is one for the books!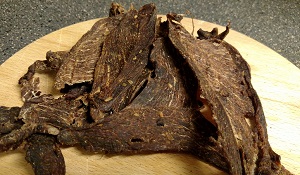 Ingredients:
2-3 - lbs Jerky cut deer meat
1 - cup beef broth
1/2 - cup worcestershire
1/2 - Tbsp black pepper
1 - Tbsp garlic powder
1 - tsp cumin
1 - tsp salt
1- packet McCormick™ Beef Stroganoff Powdered Sauce Mix
Preparation:
Trim all excess fat off of your deer meat . If not already precut, cut into 1/4" x 1" wide strips and rinse under running water. This is especially good to do with game meat because often you will find some hair on the meat.
Mix all ingredients into a medium mixing bowl and wisk thorughly.
Seperate your deer meat evenly in two one gallon storage bags and add half of the marinade to each bag.
Marinate meat for 24 hrs. Be sure to move the meat around in the bag at least a couple times during the marination period.
Dehydrate deer meat 160 F for 5-6 hours or until done and enjoy!
More Recipes
How to Make Beef Jerky > Deer Jerky Recipes > Stroganoff Deer Jerky Marinade