Peppered Deer Jerky Recipe
You can't go wrong with a good peppered deer jerky recipe like this one. It's loaded with flavors of worcesterhsire, garlic, brown sugar, sea salt, liquid smoke, and a bunch of delicious crushed black pepper.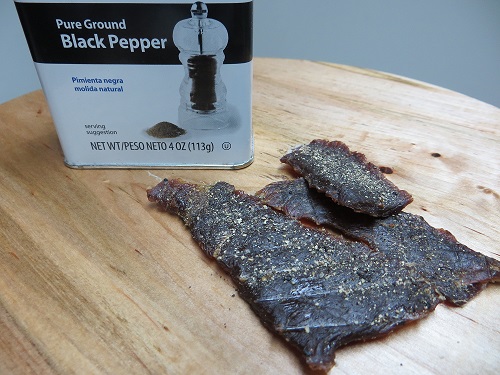 Ingredients:
3 - lbs deer meat
3/4 - cup worcestershire
1/2 - cup soy sauce
1/4 - cup water
2 - Tbs brown sugar
1 - Tbs liquid smoke
1 - tsp sea salt
1 - Tbs garlic powder
1 - Tbs onion powder
2 - Tbs coarse crushed black pepper
3 - Tbs coarse crushed black pepper (to sprinkle on top before dehydrating)
Preparation:
Cut your deer meat across the grain into 1/4" strips and make them about 1" wide.
Mix all the ingredients into a large mixing bowl and stir well for 5 minutes.
Separate your meat into two evenly filled gallon size bags and add half the marinade to each bag. Move the meat around with your fingers by lightly squeezing the bags so that each piece gets a good even coating of marinade. Marinate the meat for 24 hours.
Remove the strips of meat from each bag and lightly pat down with a paper towel before laying them on your oven/dehydrator racks.
Sprinkle the meat to taste with the additional 3 Tbs of black pepper (more if you want more pepper flavor) and dehydrate for 5-7 hours or until done. Enjoy your peppered jerky!
More Recipes
How to Make Beef Jerky > Deer Jerky Recipes > Peppered Deer Jerky Recipe