Super Hot Beef Jerky Recipe
It occured to me that many of you have been wanting a super hot beef jerky recipe so I got to work and created this inferno of a recipe just for you hot heads.

This flaming hot jerky is made of habenero paired with a good dose of cayenne and crushed black pepper. I also decided to add just a hint of smoked paprika and a little brown sugar which really kicked up the flavor overall. 

Be prepared for a solid beef taste from the meat and worcestershire and a hard kick from the habanero and cayenne mmmm tasty stuff but be careful, this one one will burn you! 

NOTE: ** BE SURE TO WEAR FOOD GRADE GLOVES WHEN MAKING THIS RECIPE, IT WILL SAVE YOU SOME PAIN **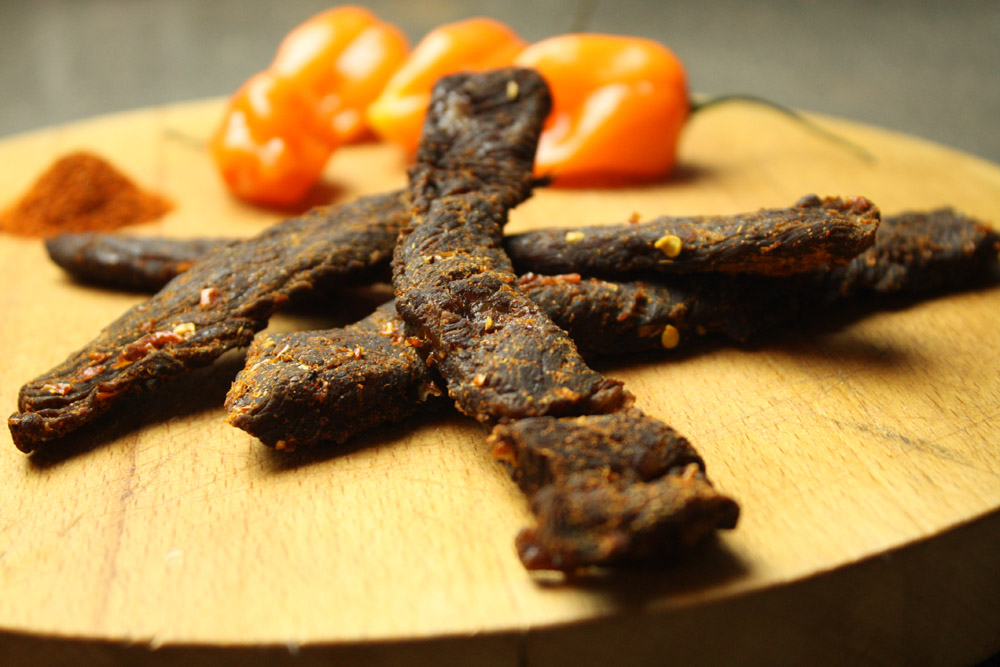 Ingredients:
2 - lbs beef top round steak
1/2 - cup worcestershire sauce
1/2 - cup soy sauce
1/4 - cup water
6 - whole habanero peppers (finely minced)
6 - tsp cayenne powder
2 - tsp black pepper
1 - tsp smoked paprika
1 - tsp garlic powder
2 - Tbs brown sugar
1/2 - tsp salt
Preparation:
Cut your jerky meat into preferred thickness and remove any signs of fat.
Add all the liquid ingredients together in a small pot with and mix thoroughly. Heat the mixture up until it simmers then turn off the heat and add in the brown sugar while mixing at the same time. Let the ingredients cool to room temperature.
Now put equal amounts of meat into two separate gallon size ziploc bags and add half of your marinade to each bag. Be sure to completely cover the meat with marinade. Marinate the meat for 12 - 24 hours.
Dehydrate your jerky in your dehydrator for 3 - 5 hours or until done and enjoy the fire!
More Recipes
How to Make Beef Jerky > Beef Jerky Recipes > Super Hot Beef Jerky Recipe