BBQ Deer Jerky Recipe
There's nothing like this bbq deer jerky recipe when your stomach's growling. This recipe gives a flavor combo of tangy, sweet, and spicy and is a real southern treat to say the least. This one you'll probably want to keep all for yourself.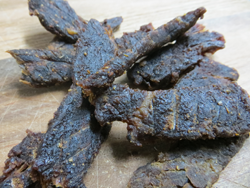 Ingredients:
3 - lbs deer meat
1 - cup ketchup
1/2 - cup water
1 - Tbs Worcestershire sauce
1/4 - cup balsamic vinegar
2 - Tbs brown sugar
2 - Tbs sugar
1 - tsp ground mustard
1 - tsp black pepper
1 - tsp onion powder
1 - tsp garlic powder
1 - tsp smoked paprika
1/2 - Tbs lemon juice
Preparation:
Cut your deer meat into 1/4" strips and remove any fat that is visible.
Mix all of the ingredients into a sauce pan and heat it up until it simmers. Stir it thoroughly until sugar is melted and all seasonings are mixed well. Let the solution cool to room temperature.
Put your deer meat in a gallon size bag and add the marinade to your meat. Marinate your jerky meat for 24 hrs.
Dehydrate with your home oven or dehydrator at 160 degrees for 5-7 hours and enjoy your deer jerky!
More Recipes
How to Make Beef Jerky > Beef Jerky Recipes > BBQ Deer Jerky Recipe