How to Make Beef Jerky
This site is dedicated to teaching you how to make beef jerky at home. A simple four step process combined with my beef jerky recipes will have you making delicious jerky year around!
Homemade Beef Jerky - The 4 Step process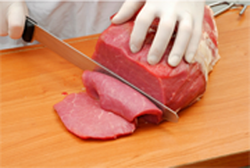 Learning how to make homemade beef jerky begins with the basics of meat selection, meat preparation, marinating, and dehydration which can be done in an oven, dehydrator, or even a smoker. This section will walk you through the whole process step - by - step.
How to Store Your Beef Jerky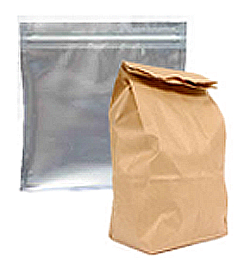 There are many different ways to store your beef jerky for both long term and short term use. You can use bags, mason jars, or even vacuum bags. Read this section to learn how to store beef jerky for maximum freshness.
How to Make Beef Jerky - FAQ's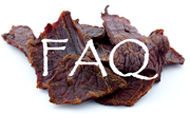 How much does it cost to make beef jerky? How long does it take to make a batch? How do I know when my jerky is done? Get answers to these questions and more at the Beef Jerky Faq's page...
Recipe of The Month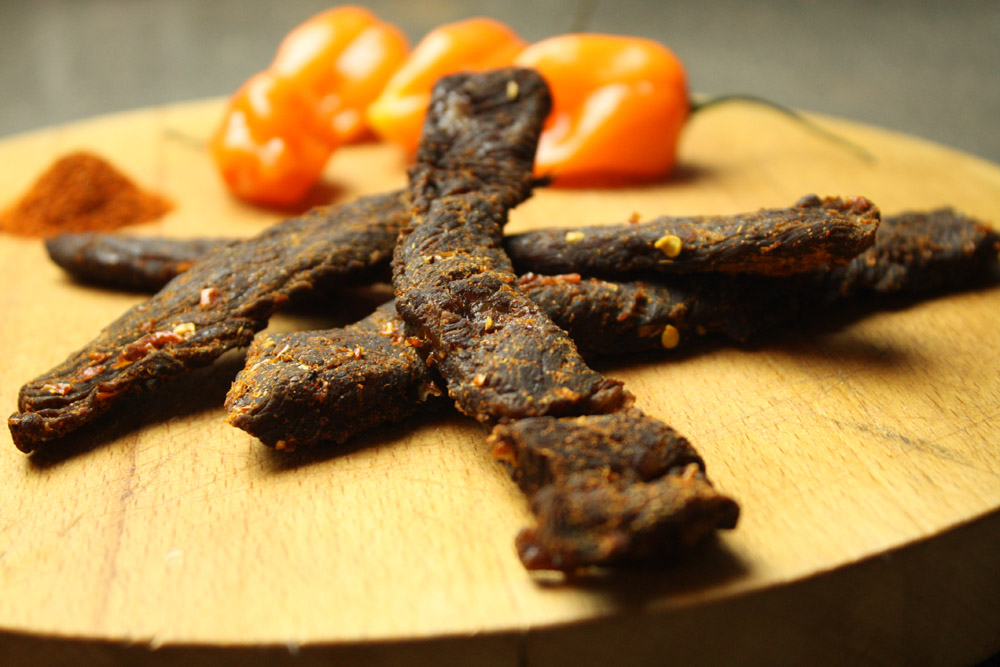 This Super Hot Beef Jerky Recipe is a real delight! It's made with habanero, cayenne, smoked paprika, and black pepper which makes it hot but very delicious at the same time. The worcestershire, soy sauce, and hint of brown sugar help keep the hotness steady and even when eating a whole piece. Don't be confused though, this jerky is a HOT one!
Beef Jerky Recipes
Some of the most flavorful beef jerky recipes have been carefully chosen and put together for your success and enjoyment. Try them all out and don't forget to check back for more recipes as they are updated from time to time.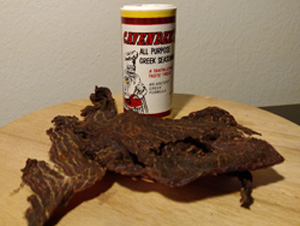 A Simple Beef Jerky Recipe packed full of 13 greek spices, beef broth, and balsamic vinegar! Simple and easy? Yes, but nothing less than delicious! Try it today without disappointment.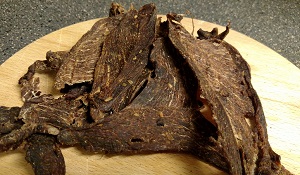 Try my all new Stroganoff Deer Jerky Marinade made with a combination of beef broth, worcestershire, and a nice rich beef stroganoff powder mix. This venison jerky recipe is a real doosy! Definitely not one to pass up.... so stop stroganoff and get to it! This one goes out to all my fellow hunters....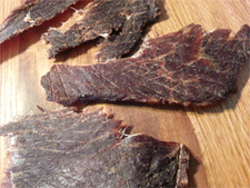 This Sweet Teriyaki Beef Jerky Recipe is a great starting point for those just learning to make beef jerky. It infuses the delicious flavors of teriyaki, brown sugar, liquid smoke, and a mixture of seasonings to make a beef jerky worth the wait.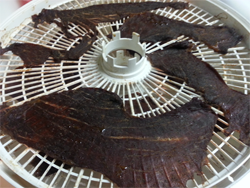 Crushed red pepper and smoked paprika gives this spicy beef jerky recipe a nice kick. Mix these two spices with the sauces/seasonings mentioned and you have unbeatable flavor!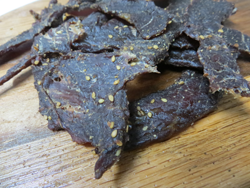 A rich teriyaki beef jerky recipe with flavors of teriyaki, roasted sesame seed, and a mesquite smoke is how I would describe this recipe. It is by far one of my favorite jerkys to make and you'll feel the same once you've tried it!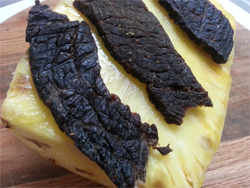 A pineapple beef jerky recipe with a sweet and slightly salty flavor that has a nice zesty pineapple taste to it. Sure it's different but this recipe proves that sometimes different is good!
More Beef Jerky Recipes
- Peppered Beef Jerky Recipe
- BBQ Beef Jerky Recipe
- Jalapeno Beef Jerky Recipe
- Lemon Pepper Beef Jerky Recipe
- Bobby's Best Beef Jerky Recipe
- Beer Beef Jerky Recipe
- Chinese Beef Jerky Recipe
Read more beef jerky recipes
Deer Jerky Recipes
Good job on getting a deer this year! Now it's time to learn how to make deer jerky with this list of simple but delicious deer jerky recipes.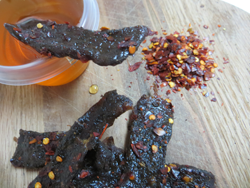 A sweet and spicy deer jerky recipe with great strong flavors of crushed red pepper and soothing honey with brown sugar. This recipe is an absolute favorite!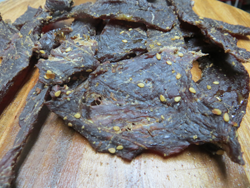 Big game jerky doesn't get a whole lot better than this teriyaki deer jerky recipe! It has bold and delicious flavors of roasted sesame teriyaki, brown sugar, soy, garlic, and smoke.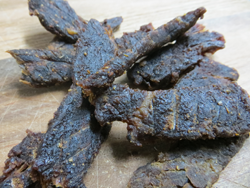 A sweet, tangy, and spicy BBQ deer jerky recipe that offers subtle flavors of brown sugar, ground mustard, black pepper, garlic, lemon juice, and smoked paprika.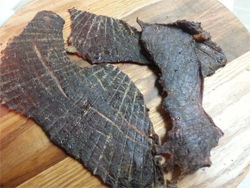 A spicy deer jerky recipe can be damn good from time to time and if that's what you like then this spicy venison jerky will light you up! Don't worry, it's not to hot but it has a kick to it and the crushed red pepper goes great with the sweet flavors of brown sugar and honey.
More Deer Jerky Recipes
- Lemon Pepper Deer Jerky Recipe
- Best Deer Jerky Recipe
- Peppered Deer Jerky Recipe
Read more Deer Jerky Recipes
Turkey Jerky Recipes
If you like turkey more than beef or if you're just looking to try something new , then you can't go wrong with a good healthy turkey jerky recipe.
Try a sesame teriyaki or lemon garlic cilantro recipe today! More delicious and interesting recipes will follow shortly.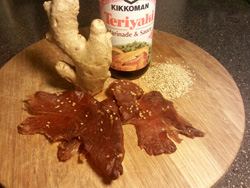 A brand new sesame teriyaki turkey jerky recipe that turned out very well! This is a great one to try for those of you who like turkey jerky or are interested making your first batch.
The rich flavors of teriyaki, roasted sesame, and spicy ginger make this unique recipe a a real treat that I suggest you try at least once. Enjoy!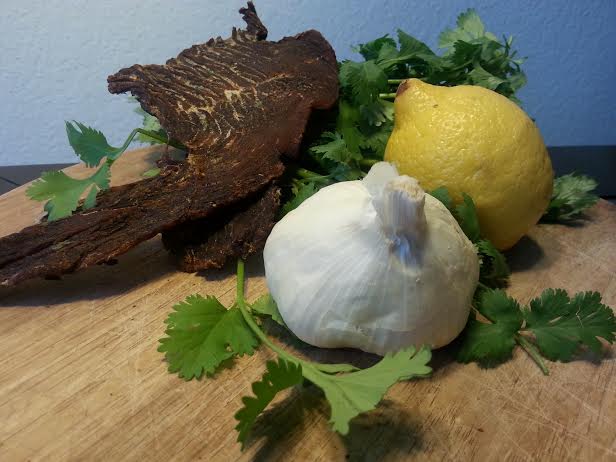 Try my new lemon garlic cilantro turkey jerky recipe for a change of pace.
The combination of these flavors mesh together so well that even the biggest beef enthusiasts like myself can enjoy!